Skybot
Tracking Flow for a Drone Delivery Service (UI/UX Design)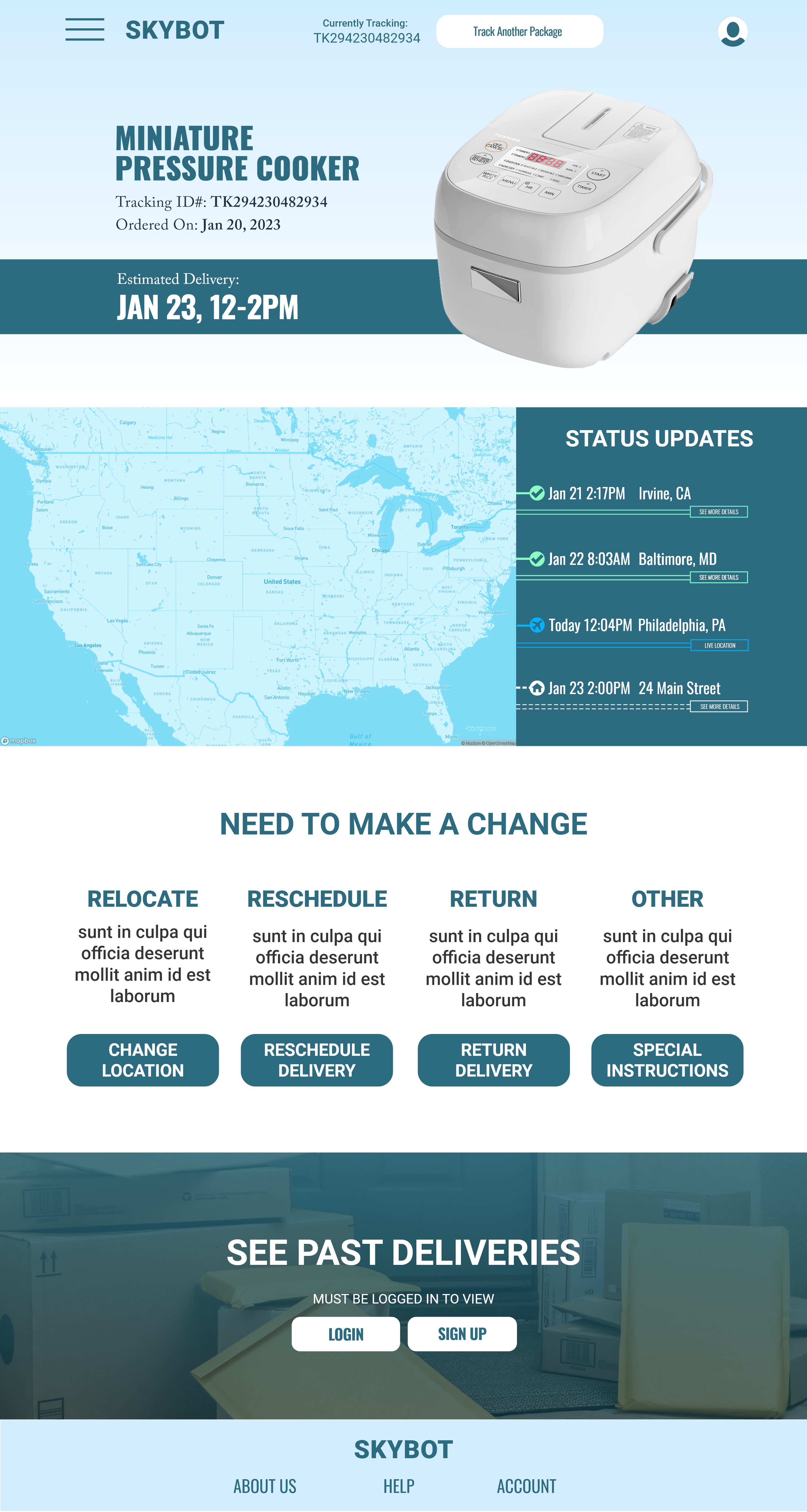 The Product
Skybot is a cutting-edge delivery service that uses drones as its primary source of haulage. This product is specifically designed to allow users to track their orders. Users can track shipments currently in delivery, queued for delivery, as well as past orders that have already been delivered. Signing up and creating a user profile unlocks Skybot's full suite of options and services.
The Problem
People buy numerous products online but struggle to securely receive deliveries on their timetable.
The Solution
Build a tracking flow (for desktop and mobile) that allows people to view live deliveries and make adjustments as needed.
My Role
UX Research, UX Design, UI Design
Project Duration
December 2023 - February 2023 (~8 Weeks)
Responsibilities
Conducting interviews, paper and digital wireframing, low and high-fidelity prototyping, conducting usability studies, accounting for accessibility, and iterating on designs.
User Research
In order to best understand future Skybot users, I conducted interviews and created empathy maps. This group primarily consisted of people who regularly or semi-regularly make online purchases. Through my research, I discovered that many target users turn to online ordering because of its convenience. However, while the act of ordering from a phone is convenient, receiving packages is far from it. Users miss deliveries, have packages stolen, and struggle with returning unwanted products.
Confusing
Confusing maps, vague checkpoints, and ever-changing delivery dates make it hard for users to know what the "true" status of their package is.
Inflexibility
Once a package is shipped, making changes is difficult. You can't reschedule the delivery time, change the location, or even cancel the order.
Time & Impatience
While ordering a package may be instantaneous, delivery is not. And, the timely process of waiting for a package can test the patience of even the most forbearing user.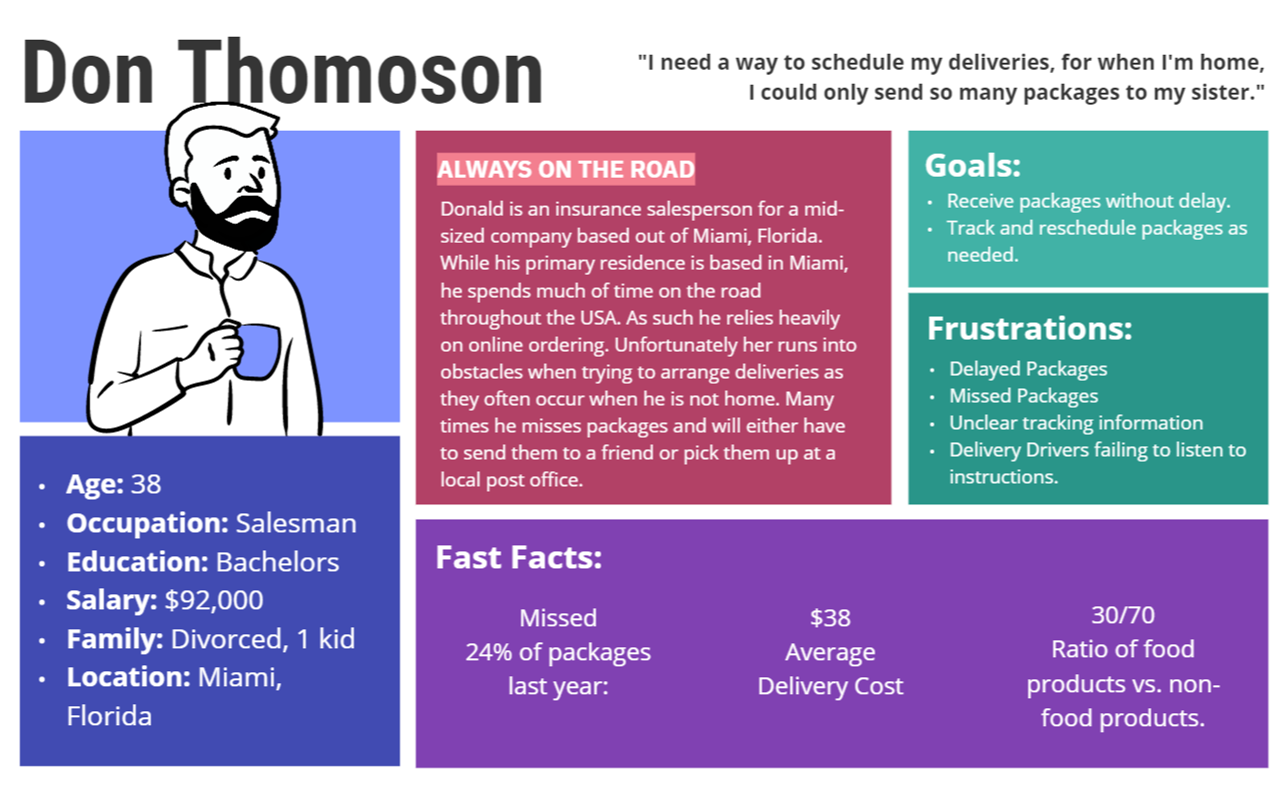 Personas
Problem statement: Don is a busy insurance salesman who needs a way to track and schedule online deliveries because he is frequently travels for work and not at home to receive the packages.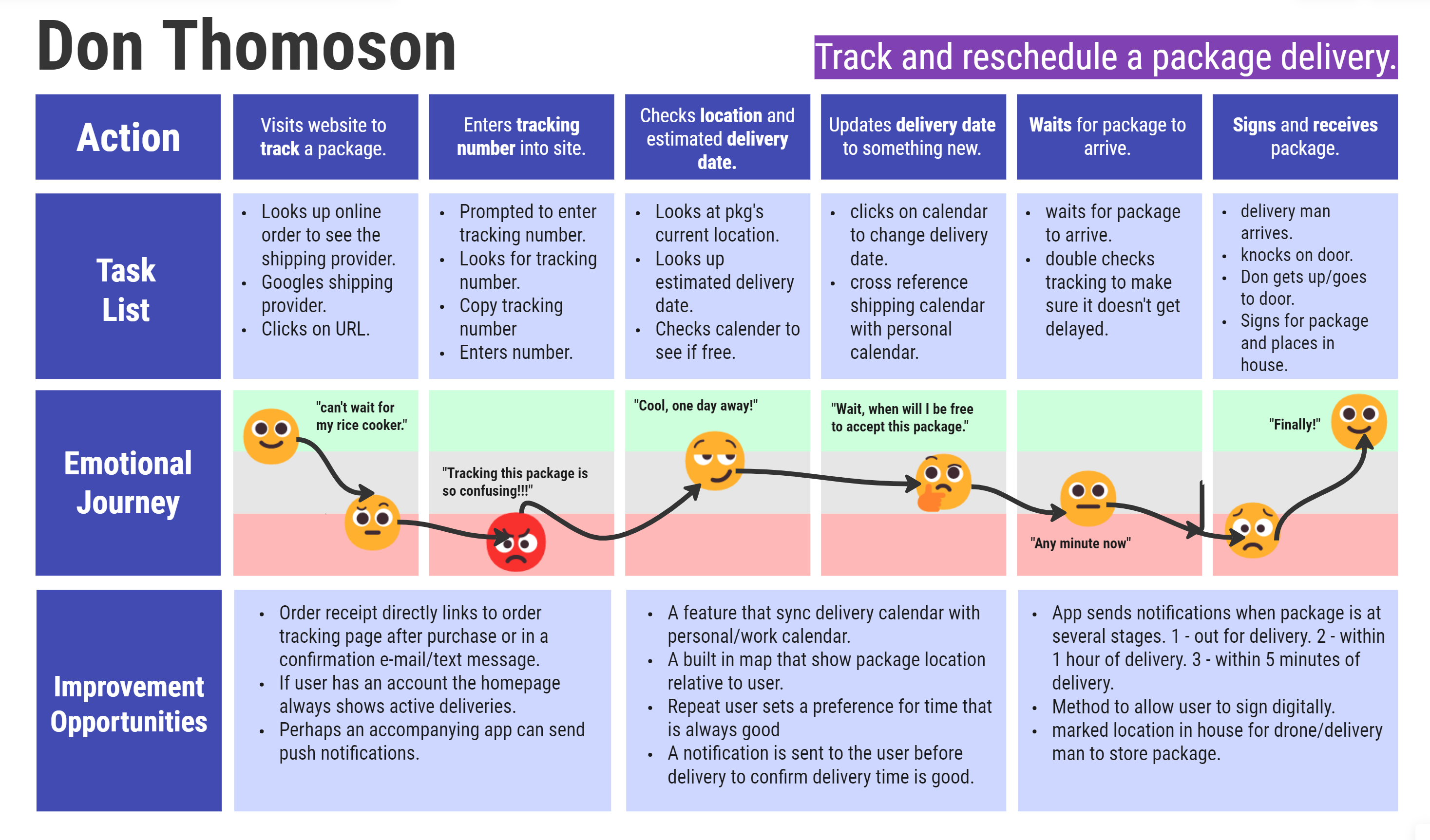 User Journey
Mapping Don's user journey revealed how the ebbs and flows of ordering a package online.
I wanted the site map to be as simple as possible. Since the primary purpose of the site is to track apps I did away with any extra stuff and kept it to the four basics: Tracking, About, Help, and Account Information.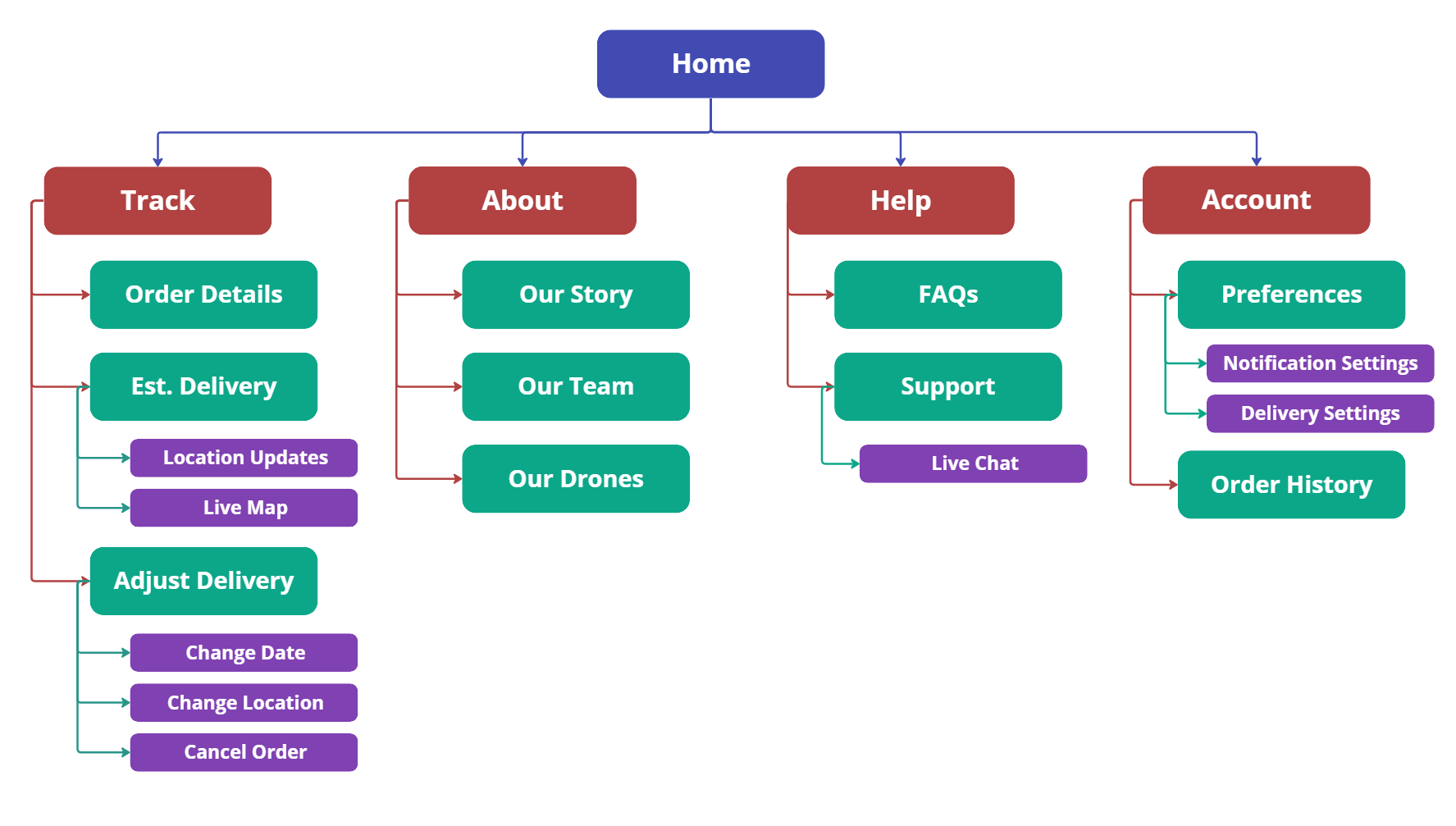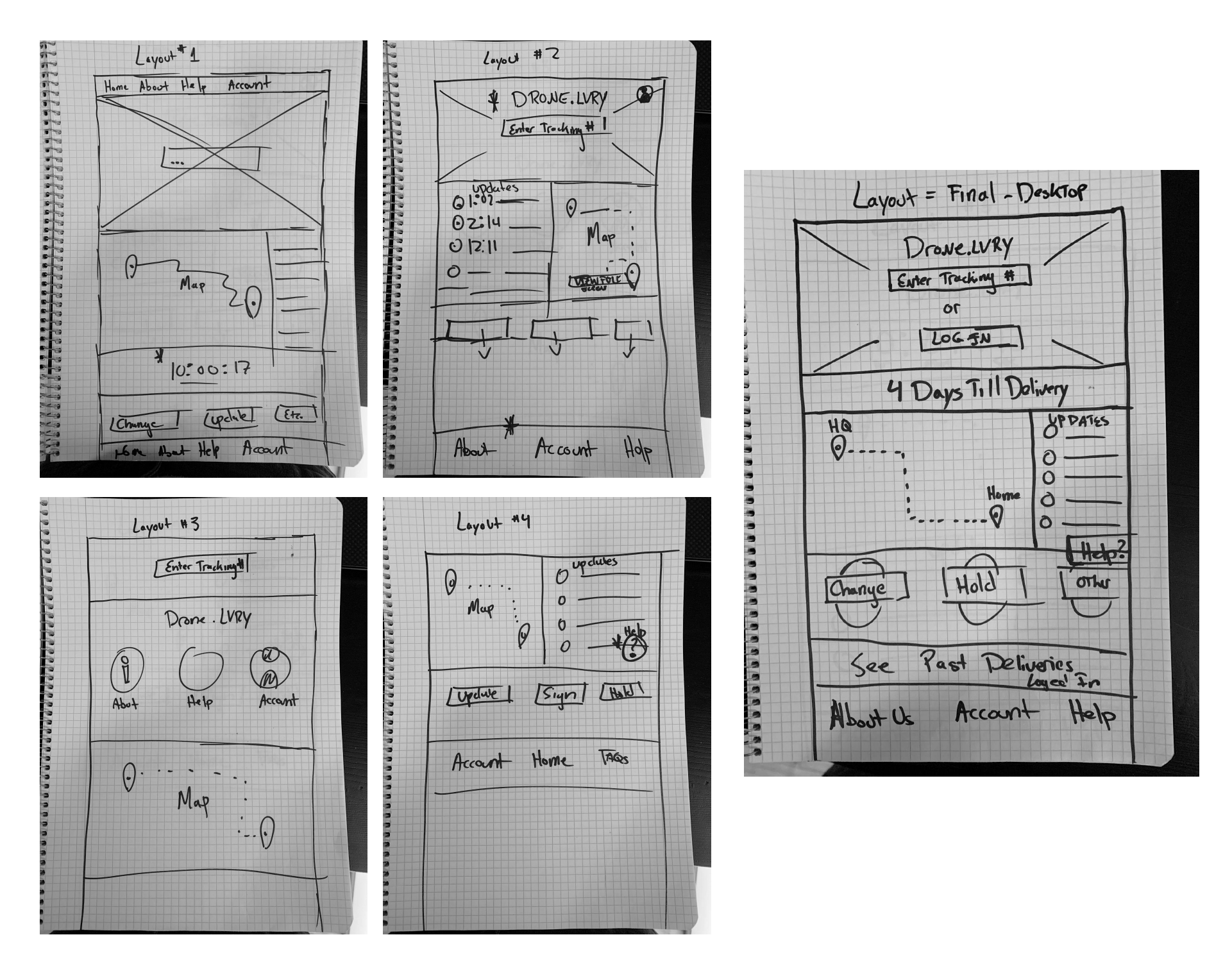 Paper Wireframes
Next, I sketched out paper wireframes for the primary flow of tracking a shipment.
The four images on the left represent early iterations, while the graphic on the right represents a final composite of my first 4 design's best features.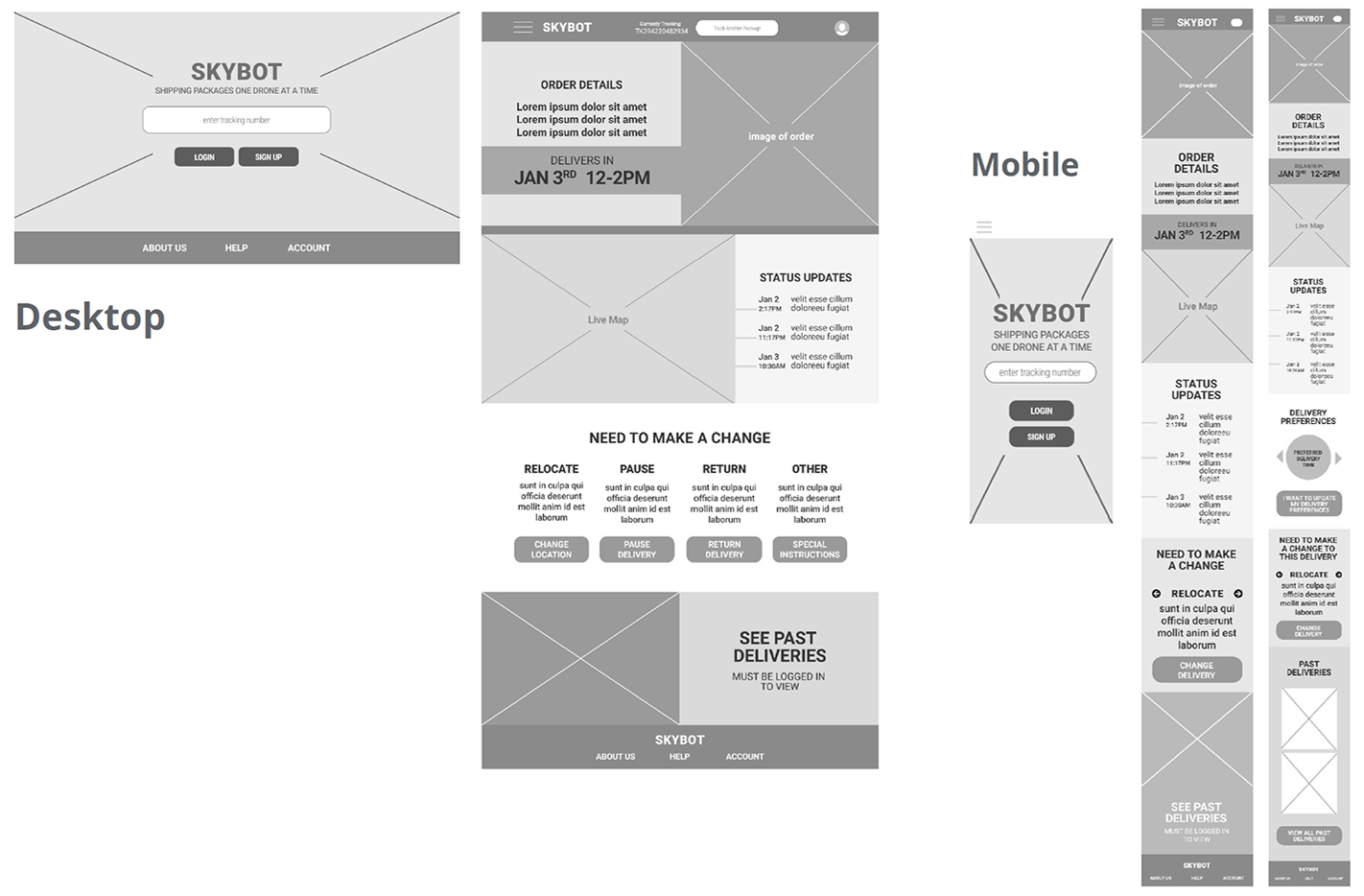 Paper Wireframes
Moving from paper to digital wireframes made it easy to understand how the tracking flow can help user pain points. The main idea is to build something that is simple and intuitive, using as few steps as possible to complete the necessary task.

Usability Study: Findings
In order to better understand the app I conducted an unmoderated usability study with 5 US-based participants. The study was done remotely.
Preferences
Users did not have a way to set up preferences for future purchases and deliveries.
Clarity
Users struggled a bit with understanding how/when their order would be delivered.
Search
Users wanted a way to search for their order without having to enter a tracking number.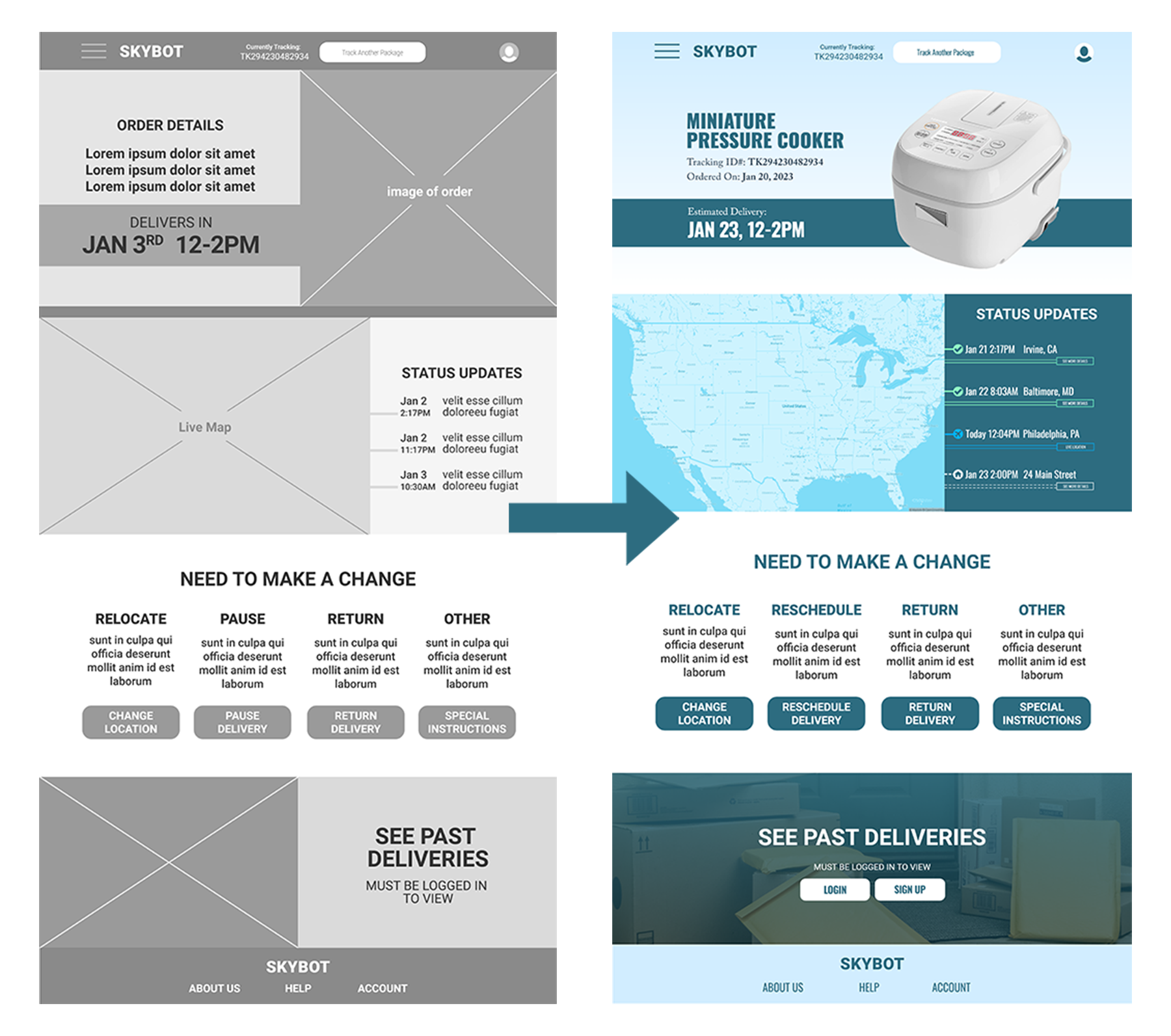 Updated Mockups
Made changes to mockups based on feedback from a usability study and colleague critiques.

Accessibility Considerations
Used headings with different-sized text to create a clear sense of visual hierarchy
Used landmarks to help users navigate the site, including users who rely on assistive technologies
Designed the site with alt text available on each page for smooth screen reader access.
Impact
The app provides an updated & modern approach to online delivery.
One quote from peer feedback:
"I love that I can track my packages in real time, and make changes at any moment in the delivery."
What I Learned
I learned that even a small design change can have a huge impact on the user experience. The most important takeaway for me is to always focus on the real needs of the user when coming up with design ideas and solutions.
Next Steps
Conduct follow-up usability testing on the new website.

Identify any additional areas of need and ideate on new features

Work with engineers to help develop a working prototype.
Let's Connect
Thank you for your time reviewing my work on Skybot! If you'd like to see more or get in touch, my email is emrahmey@gmail.com